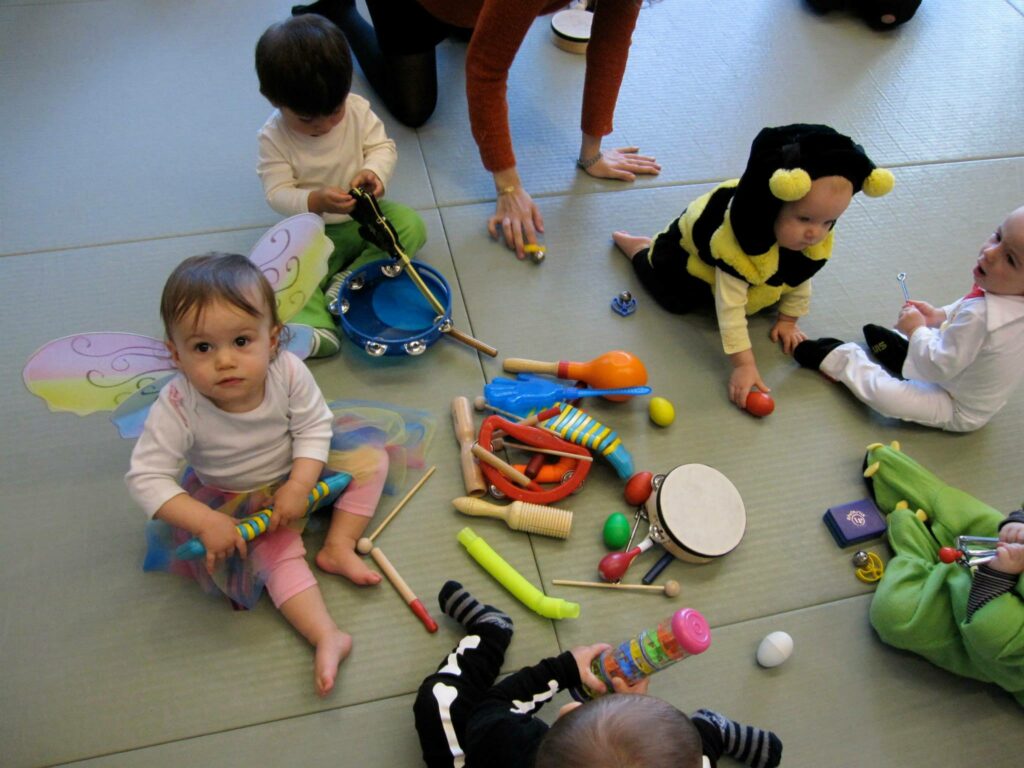 Wee Expressions is more than the traditional children's music program. Our curriculum is based on researched methods surrounding the benefits of music infused with Music Therapy techniques.
In our classes, parents and children (0-4yrs) alike take pleasure in the interactive nature of the classes and jointly participate in singing, instrument playing, accompanying song actions, baby sign language and dances with a refreshing sense of exploration and fun.
Based on a mixture of both structure and free play learning, in each class, parents are taught how to use music elements to develop their child's mental, physical, speech and behavioural (i.e., learning to wait and share, manners, etc.) skills.
Due to COVID-19, each in-person class has been reduced from 45 minutes to 30 minutes. The classes will be lead by a professional trained teacher who is up to date with the current safe practices and policies surrounding the pandemic. Please visit the registration page to familiarize yourself with new policy, safe practice requirements, and what we are doing to keep the facilities clean and safe.
Varies/class (Dependant on location)

– Drop in options available*

* Prices may vary depending on location

Your own personal music kit

– Available for purchase now

Music CD & ebook of lyrics (various collections)

– Available for purchase now
AVAILABLE CLASS TIME AND LOCATIONS:
Join us for 30min of fun music time where we explore the musical world with things you would find in your very on home. Where we'll be featuring different themes each month. For instance: Jamming in the Kitchen. We'll be learning some sing-a-longs and rhythms while playing with pots & pans, and turning chopsticks or spatulas into rhythm sticks. (This way you don't have to worry about not having your own set of instruments). During this class, parent & child will learn different songs, actions, basic sign-language, brain gym activities, and mindfulness practices as well as social behaviours and manners.
*If you would like to purchase your own set of instruments, please click: Buy Now.
The Music Kit ~$29.99+ includes what you see in the image.
Online sessions TBA 
Cost: $10/class
To register for online lessons, please click here
We are gradually offering in-person sessions. Please click on location tab to find out what is being offered.
Creekside Community Centre 1 Athletes Way
Tuesdays from 10:30 -11:15am
May 10 – June 28 Total 8 sessions
Thursdays from 10:30 -11:15am
May 12 – June 30 Total 8 sessions
Killarney Community Centre 6260 Killarney St
Aug 22-26 from 10-10:45am

Marpole Community Centre 990 W 59th Ave
 Fridays from 10:00am – 10:45am ( *Min 5, Max 15)
April 8 – June 17; no session April 15  (Total 10 sessions)
Mt. Pleasant 1 Kingsway
Wednesdays from 10:00am to 10:45am
May 4 – June 22 Total 8 sessions
Fridays from 11:30am to 12:15pm
May 6 – June 24 Total 8 sessions
  * There are limited number of spots as the occupants per class are restricted to a certain capacity due to Covid safety restrictions.
"Musical Expressions values the potential of every individual to engage their musical abilities. Regardless of age or ability level, music is a gift that is acquired through time, yet lasts a lifetime."