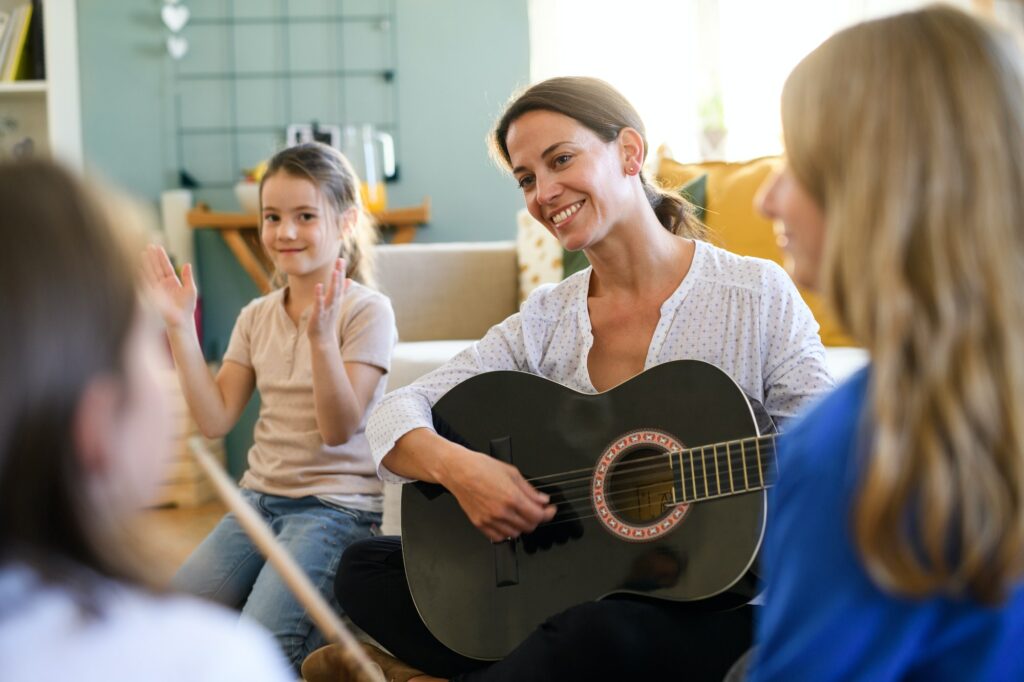 Your kids love music?
Want your child to pick up another language?
Want to get your child more active and into the arts?
As we continue to safeguard the health and well-being of our kids, families, volunteers, employees and community, Musical Expressions is continuing to offer our highly popular programs outdoors! 
Varies/class (Dependant on location)

– Drop in options available*

* Prices may vary depending on location

Your own personal music kit

– Available for purchase now

Music CD & ebook of lyrics (various collections)

– Available for purchase now
AVAILABLE CLASS TIME AND LOCATIONS:
What is this workshop about?
Come explore with us and learn! In these classes, participants will be engaged in fun, real life social and communication skills to develop their  French language. Science have proven that music is a great way to learn new languages as well as hands-on-learning. We have specifically designed this program to do just that. Children will learn French through music and exploring the outdoors/nature with the instructor. Since it is an outdoor program, it is safer and allows children to have more space to express themselves creatively. There will be lots of singing, dancing, games, activities and nature exploring. In addition, children will have opportunities to form new friendships, and develop strong problem-solving skills.
*Classes will run come rain or shine! Please dress your child in layers and have waterproof attire and sunscreen. Each child will need to bring their own bottle of water.   
Kids will learn:
Singing, Dancing, & Music to help learn French
Language development & Communication skills
Games and Activities & Outdoor Exploration
Social skills & Self-expression
Collaborative and individual problem-solving skills
Marpole Community Centre 990 W 59th Ave
Monday – Fridays; 9am – 3pm, August 22 – 26th
-min participants 8, max 10
(Type "sing, speak" in search tab) 
Join us for a week of full day program, rich with creativity and fun. Children will be exploring their musical, artistic and active sides. Through the week, participants will be engaged in singing, playing, movement, creating & self-expression via different activities:
Group Ukulele
Rhythmic learning
Art Time (hands-on activities making art through various mediums – will be able to take home things they make including instruments)
Drum Time (a fusion of movement, singing, African drumming & Taiko drumming.)
Materials kit include individually packaged tools and materials for each child to use to minimize sharing of objects. (Each child can bring home the kit to keep on the last day.) For ages 6-11yrs.
Hillcrest Community Centre
Monday to Friday; July 4 – 8 & Aug 15 – 19, 9am – 3pm
*Costs cover registration and materials for crafts
Register online here 
Roundhouse Community Centre 181 Roundhouse Mews
Monday to Friday; July 11 – 15th 9am – 3pm
*Costs cover registration and materials for crafts
Westpoint Grey 4397 W 2nd Ave
July 18 – 22; 9am – 3pm
Cost include registration and materials for crafts
Register online here 
Music & Animation Tech Camp: Join us for a one-week, full-day program where we will explore how to make our own videos using 2 forms of animation (2D & Stop Motion). Participants will use their laptops to record audio and video, learn editing software, how to sound engineer their own music tracks and make animations. All participants must have basic computer knowledge.
All participants will start from scratch, learning the processes of how to move the animation, record the sound, then put it all together for their final video! From simple common devices (eg. smartphones), to professional equipment (eg. MIDI Keyboards), participants will practice using different devices for recording music and sound effects for their videos. Lego characters will be made for the Stop Motion Animation. On the last day of camp, there will be a showcasing of all the things they have learnt and created throughout the week.
*Equipment you need to bring for camp: phone that can record videos, pencil and paper, Lego pieces or playdough laptop, Pre-download "Reaper Daw" Free version & "VideoPad" Free version & "Animatron" (Create your own free account and tell your child what the login is). Participants who do not have this will not be able to participate. There is an additional $25 for sound recording equipment. (Cost: $72/day + $25 = $385)
Mount Pleasant Community Centre 1 Kingsway
Monday – Friday; 9am -3pm July 25 – 29
     -min 6 participants – Max 12
     -age range 9-12yrs
(If younger, please contact us to see if they are suitable for the class.)
Roundhouse Community Centre 181 Roundhouse Mews
Monday – Friday from 9am – 3pm, Aug 8 – 12
-min 6 participants, max 12, age range 9 – 12ys
  * Prices and promotions at community centre may differ from the above list of pricing.
"Musical Expressions values the potential of every individual to engage their musical abilities. Regardless of age or ability level, music is a gift that is acquired through time, yet lasts a lifetime."