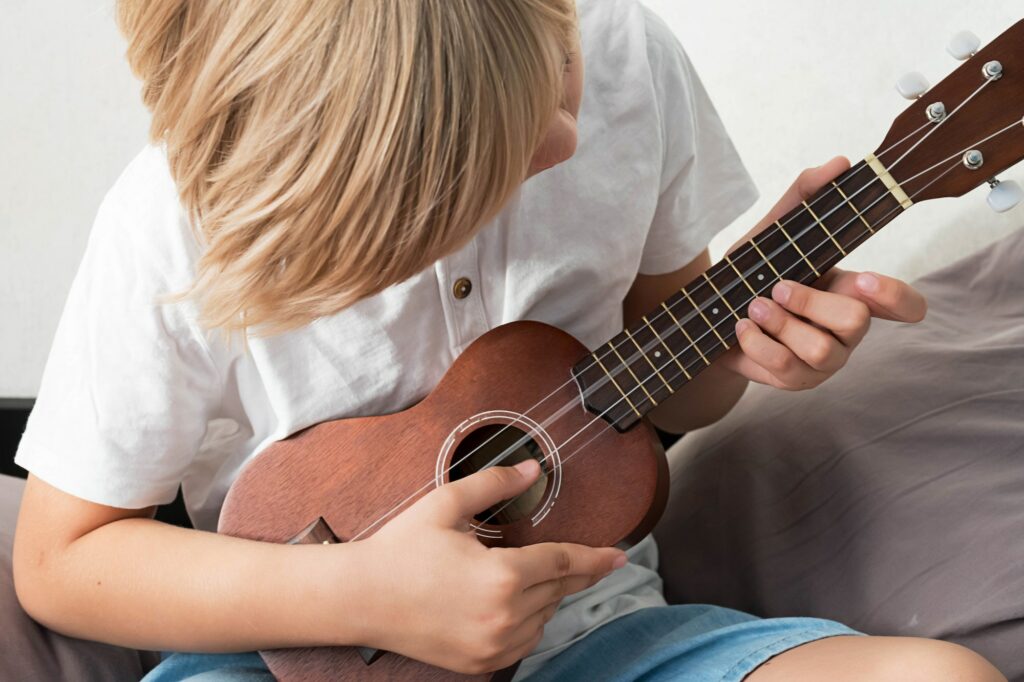 Does your child like to sing and have the passion for music
Want to introduce them to instrumental playing
Then the ukulele is a great way to start!
Come join us on a fun exploration in discovering the ukulele. In the class kids will learn the basics about their ukulele, some chords and how to sing-a-long with it. There will be some art and drawing in the class to keep the younger ones engaged. This is an outdoor event, so please bring your own blanket to sit on. If the weather is bad, the classes will be moved indoors.
*Please bring your own Ukulele and colouring tools along with a book/binder with plain paper. Also bring your own seating mat to class. Each class is 30 minutes long. If parents are unable to attend classes with child, grandparents, nannies, or other adults are welcomed to participate instead. Drop-in are welcomed!
– For in-person sessions (Temporarily not offered)
* Prices may vary depending on location
**Ukuleles are provided in class. Students are welcomed to bring their own ukulele as well.
AVAILABLE CLASS TIME AND LOCATIONS:
TBA
Cost: $10/class
To register for online lessons, please Click Here
Hillcrest Community Centre 4575 Clancy Loranger Way
Saturdays from 10:30am – 11:00am
April 9 – June 25 (no session Apr 16, May 21) Total 10 sessions
July 9 – 23 Total 3 sessions
Aug 6 – 27 Total 4 sessions
To register online, visit here
  * There are limited number of spots as the occupants per class are restricted to a certain capacity due to Covid safety restrictions.
"Musical Expressions values the potential of every individual to engage their musical abilities. Regardless of age or ability level, music is a gift that is acquired through time, yet lasts a lifetime."